UPCOMING EVENTS OF 2015
On September 12th, 2015 at 3.00 PM at Algonquin Regional High School, 79 Bartlett St Northborough, MA
PAST EVENTS OF 2014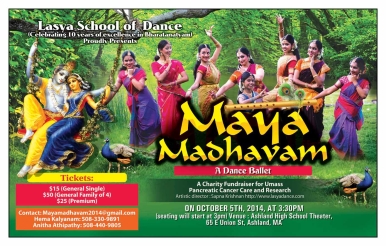 10th Anniversary Celebration event Dance Ballet: Maya Madhavam , On October 5th, 2014 (A Charity Fund Raiser for UMASS Pancreatic Cancer Care and Research).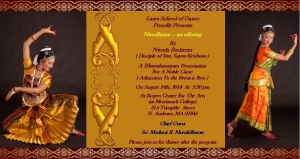 Lasya School of Dance presents : Nivedhyam - An Offering On August 10th, 2014Venue: Rogers Center for the Arts, North Andover, MA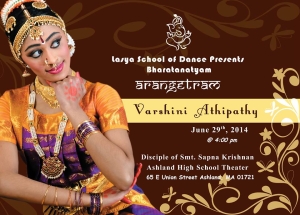 Arangetram of Varshini Athipathy On June 29th, 2014Venue: Ashland High School Theater, Ashland, MA
PAST YEARS EVENTS

2013 : Arangetram: September 28th, 2013 Nilanjana Nambiar

2013 : Arangetram: July 6th, 2013 Anjana Shenoy and Aishwarya Nambi

2012 : NatyaSangamam, Fundraiser for MS Society.

2011 : Performance in Dubai, UAE.

2011 : Performance in Chennai (India) during Marghazhi Festival.

2010 : Lasya Shruthilaya, Fundaraiser for Akshayapatra Foundation.
For more information, please call or email
Sapna Krishnan
at

(508) 792-9432

sapna@lasyadance.com